NAME THAT BOOK (a.k.a. BOOK TITLES PART 2)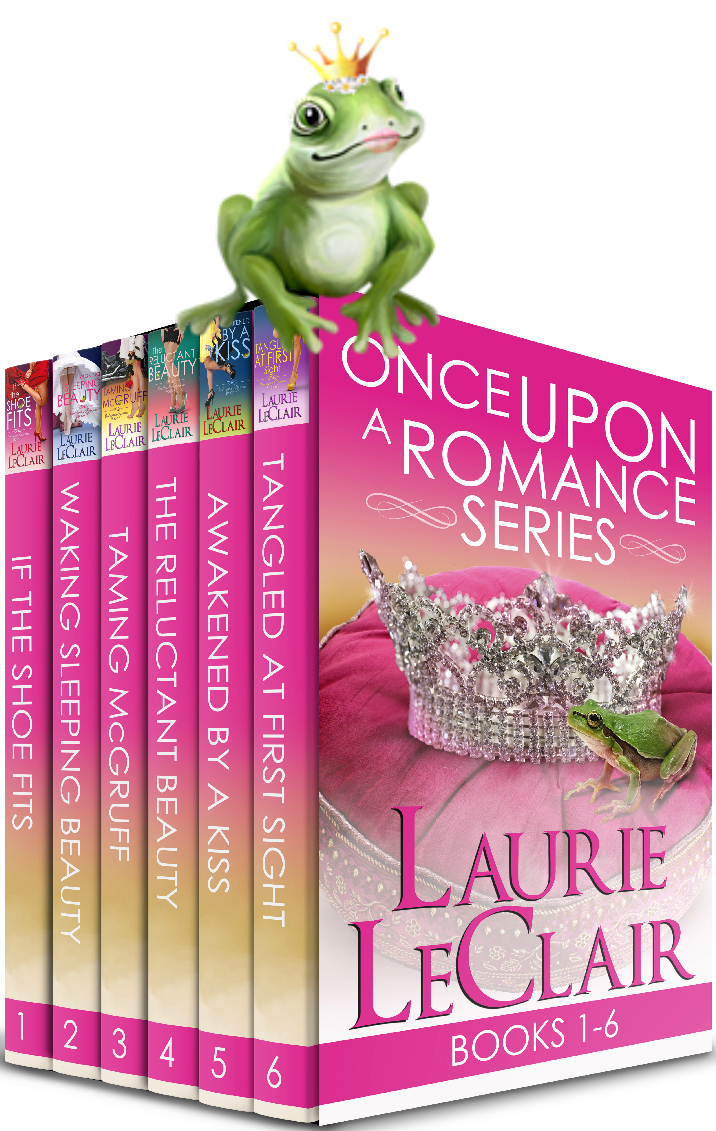 I've been at this writing thing for quite some time, so you'd think I'd get better at selecting titles for my books. Not so much. There's a certain skill involved that on good days I can utilize. On bad days, I'm clueless. I found this out when I began writing my romantic comedy series, Once Upon A Romance.
I heart Cinderella. It's no secret. I took the classic fairy tale and gave it a twist. My heroine, Charlie, didn't need to be rescued. In fact, she didn't want the prince. So how could I give this story a fitting title? Ah ha! Modern Day Cinderella seemed perfect. But, as luck would have it, my New England accent stumbled over the word modern. (I kid you not! I still can't get that word right.) I scrambled for a replacement title, toying with Once Upon A Romance, since I thought this would be a single title. When I realized I had to make this book the first in a series, I changed it to the name of the series and went back to my think tank. If The Shoe Fits popped in my head and the rest is history.
Onto book 2. Francie left her sheltered life behind to find her wings. I needed something to show how she woke up from dreaming and discovered how to live. The title Waking Sleeping Beauty happened to be my one and only idea since it matched the story perfectly.
Book 3 proved the easiest book to write, yet the most difficult to find the right title. It's a twist on the classic Beauty And The Beast. Free spirit Priscilla meets Griffin who is bent on revenge against her family. Hmm… Taming The Beast sounded a little X-rated, if you know what I mean. I tried out different titles and discarded them all except for using the nickname she gave him. And thus Taming McGruff was born. (Fyi, I love it since I know the story. However, I know I could have probably done better if I had a few more years to think about it.)
Ah, book 4. Peg, tall and willowy, feels like an ugly duckling in her All-American family. Actually, she's beautiful and doesn't know it. The title The Reluctant Beauty fit her and the message in the book like a glove.
I knew book 5 was a play on Snow White And The Seven Dwarfs. Evelyn loves kids and wants one or a dozen of her own. In the meantime, she babysits. A lot. In fact, she has seven little ones she looks after for her friends and co-workers. But I couldn't use the number seven in a romance (again, that X-rated vibe). I sent the manuscript to my amazing proofreader, Faith Williams, the owner of The Atwater Group, with just the book 5 heading. She finished the edits and sent it back with a few great title suggestions using the word kiss. I liked it and jotted down a string of combinations and ended up with Awakened By A Kiss. (Thank you, Faith, for the inspiration!)
The concept for book 6 was a twist on Rapunzel. Paige had been through so much and I couldn't let her down now! Hubby and I brainstormed and nothing worked. Then one morning I went to my desk and found he'd compiled a list of possible titles. Interesting! Among them, I found the gem, Tangled At First Sight.
Okay, time for book 7 and it was getting a little more difficult to come up with a title for a play on the story Goldilocks And The Three Bears. (Once again, the weird X-rated factor for three guys…) I'm creative, right? And Madison is indecisive. Mr. Wrong is long gone and Mr. Right is here. But is he the one? Nope. Dex is her Mr. Just Right. So I added to it to get Finding Mr. Just Right.
Book 8 arrived with a splash. Yes, you guessed it. I took The Little Mermaid concept and put a spin on it. The entire time I wrote the book the title was Splashed. However, once I listed all the titles in the series, I noticed how off this one appeared in comparison (authors do look at little quirks like this and stress over it). Back to the drawing board. And hubby left another list for me to discover. There it was in the midst of the two page long suggestions. That's how Making A Splash came to be the one.
I have the concept for book 9 down and now I just need to uncover, or is it discover, the perfect title?
So there you have it, my tale of how—with a little help from my hubby, proofreader, and a whole lot of head banging—I selected the titles for the books in my ever growing Once Upon A Romance Series.
Stay tuned for more stories of how I trip over my words and try on and discard and try on again to find the perfect fit for my book titles…