In honor of the baking theme in my upcoming release, Baking from the Hart (August 23, 2016), I've decided to include a few recipes at the end of the story. How am I going to come up with the yummy treats, you ask? Well, I'm holding a baking contest!
That's right. I'm asking for your help to find the winning recipes. Do you have a special go-to recipe for dessert? Or a favorite your family begs you to make? What are you waiting for?
Submit your recipe by emailing me at Laurie.Leclair@aol.com. Hurry because the contest deadline is July 31st! (Contest open to the first 50 entries.)

Winners get their recipes— along with their names—published in Baking From The Hart, an autographed copy of the book, special goodies, and a mystery prize!
Contest categories:
Snackatizers  (those little bites of sweet treats you just can't resist)
To Die For (chocolate goodies)
Pies, oh my! (pie recipes)
Crazy for cookies (cookies, cookies & more cookies)
Cakealicious (cake deliciousness)
---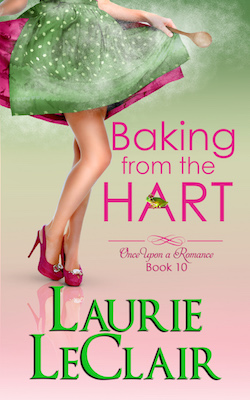 Baking From The Hart (Once Upon A Romance Series, Book 10)
When bakery owner Gretchen Hart crosses paths with billionaire wine maker Noah Blackstock will it end up being a delectable treat or a recipe for disaster?
Available for pre-order on iBooks.
Save
Save
Save
Save