Cassie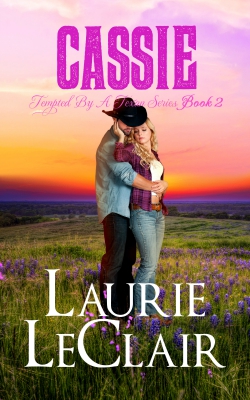 Book 2: Tempted By A Texan
She's through with wicked bad boys breaking her heart. So when her brother's best friend rides back in to town, can Cassie just say no to the sexy cowboy she once had a crush on?
Tempted By A Texan, small town Texas romances full of heart and humor…
As the only sister in the middle of five rowdy brothers, smart, spunky cowgirl, Cassie Callahan desperately longs to leave her brand on the fifth generation ranching legacy. She needs to make a success of her family's latest venture. The Circle C and their hard earned reputation are in jeopardy from the moment it begins though. It's a certified dud until her teenage crush rides back in to town. With her heart aching and her breath caught in her throat, Cassie comes face-to-face with the sexiest, hottest, cowboy in three counties. Can someone tell her why did she ever make that rule on no poaching her brother's best friend?
Back in his hometown to check on his ailing folks, Brody 'Bad Boy' Jenkins lost a bet over a bad pool game and a couple of beers. He'll do his time and saddle on up and out in no time. He thunders in like a whirlwind, bringing electricity, and lighting a fire when he crashes her party. But he's the one stunned when he discovers how grown up little Cassie Callahan has become. She's sexy, with long tanned legs, and a smokin' hot bod.
Now, he's calling on all his willpower to not go against his age-old bro code: You don't look, never mind think about your best friend's sister. How can he keep to his off-limits code when, with just one smoldering look, she's sparking all kinds of wicked thoughts? And, by her reactions, she's not entirely opposed…
She makes rules. He breaks them. Her plans don't include him or his wicked ways. He's laidback and he lives off the cuff. She'd be better off without him. He agrees. Brody understands her when no one else does. And he wouldn't know what to do if she weren't a part of his world. They're no good together. So why is he pushing back and tempting fate?
When the beloved Callahans need his help with the crumbling venture, Brody hires on. Soon, he crosses the line. This could be the most dangerous thing he's ever done—losing his best friend while falling for the woman of his dreams. Will Cassie ever dare to take a leap of faith with 'Bad Boy' Brody? And can Brody ever convince her that the stakes are even higher if she doesn't put her trust and her love in him—her cowboy?
Sometimes you have to break the rules in order to win at love.