Tangled At First Sight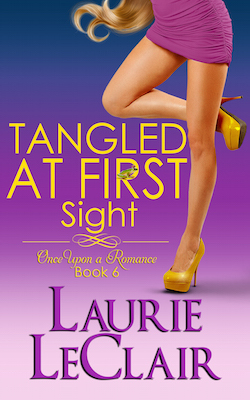 Book 6: Once Upon A Romance Series
Can't a girl just lead a normal, humdrum life around here?
Artist, Paige Sumner is desperate to stay far, far away from the spotlight. She'd had her turn there there with disastrous results. Yet her plans to stay under the radar fall apart when the owner of King's Department Store sees her designs and enlists her in a highly visible venture.
Ex NFL football player, Jay Whitfield longs to keep his promise to his late mother and care for his three brothers. Knocked out of the game, Jay searches for another long term way to support his family. When King's offers him an exclusive merchandise deal, he jumps at the chance. However, he gets more than he bargained for when he gets tangled up with Paige and finds success for him depends on her cooperation. Jay needs her to agree to participate in a steamy, hot new ad campaign for the store and she's determined to sit this one out on the sidelines.
Can Paige get past her fear of the spotlight to help Jay earn the money he needs to raise and feed his kid brothers? Or will Paige turn her back on her one chance of redemption and walk away from the man she's falling head over heels in love with?