Making a Splash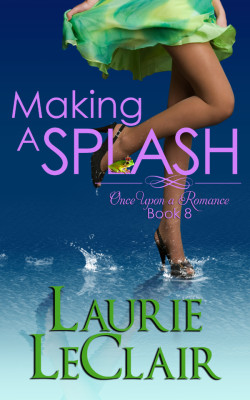 Book 8: Once Upon A Romance Series
Can trusting in love make you dream bigger than ever before?
Annabelle O'Connor desperately needs a real, live hero—not for herself—for her young son who's living in a superhero fantasy world. He's in trouble. If only she could help him…
As the owner of Mermaid Landscapes and Waterworks, Annabelle's had her fair share of water mishaps. None compare to when she finds herself on the wrong end of a car sailing through a huge puddle. She's drenched in a nearly transparent dress as she comes face-to-face with the handsome driver.
Ditching law school and becoming a cop is high on Max Whitfield's wish list. All that's left is to deliver the news to his brothers. But they've lost both their parents already and he knows the orphans don't want to lose him, too.
To add to his woes, Max is sinking fast for the spunky woman he splashed. He can't bring himself to walk away from Annabelle. The attraction pulls him in and keeps him coming back for more. And her son looks up to him. His need to protect them from drowning in hurt again—even by him— beats strong and steady.
He's a heady distraction she can't afford. However, his charming ways soon work their magic on her and she's nowhere near to trusting herself around him, especially when she discovers Max is ready, willing, and able to put his life on the line. She knew getting involved with him was a bad idea.
But how can Annabelle turn away from what she's feeling when Max seems like the perfect real, live hero for her son and maybe the one she never knew she ever wanted for herself? And will Max put loving Annabelle on the top of his to-do list and forgo his own dreams?