Excerpt: The Bachelor and the Bride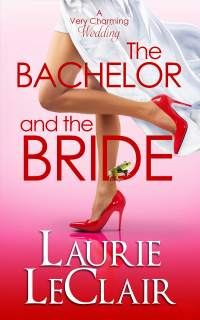 Book 1: A Very Charming Wedding Novel
Chapter 1
"Sorry if you're interested. I'm not," Lacey Daniels said to the man who slid in sideways beside her at the crowded, noisy open bar.
"Did I ask?" He seemed more intrigued than annoyed, which definitely got her attention.
Turning, she gazed at the tall man next to her in a very expensive tux, smelling like a dream, and trying to suppress a sly grin. All that and in the mandatory mask for her friend's masquerade wedding. Who does that?
"Bridesmaid?" he asked, flicking a glance at her attire. Was he looking at her cleavage? The low-cut, strapless gown certainly could have been a tad higher.
The dang black and silver mask hid his eyes. What color were they? And his hair looked like a sandy-brown or dark blond. Maybe she needed to borrow her friend Heather's glasses.
"Sad, isn't it?" Her idea of a bridesmaid dress would not be peachy-orange or a mermaid style. "Can barely walk, never mind dance in this thing."
"I don't dance. That's if you were interested." His lips tugged higher.
"Was I asking?" Two could play at this little game. Oh, he could tease. She liked that.
"There's not much you could do in that dress."
She gasped inwardly. Was he suggesting? No. "As opposed to…?"
"Out of it," he said softly and oh so seductively.
Lacey's cheeks warmed. And his answer left her speechless. His chuckle did the strangest things to her nerves as they jumped and hummed. No, she would not fall for sweet talk or even dirty talk tonight. Being seduced and then dumped at a wedding, of all places, was not on her bucket list.
Twisting back to the bar, she leaned in, trying to find out where in the world her bartender went to.
Finally, the young gun emerged, carrying the three shots of tequila she'd ordered. "Here you go, sweetheart."
Handing him a tip, she said, "I'll see you for the next round."
"You free later?"
"She's not interested," the mystery guy said. When she jerked to him, he shrugged. "Just helping out."
Her lip twitched, but she suppressed the smile. "Thanks," she murmured to the bartender and also to the man as she collected her drinks between both hands and eased back and away.
"Don't be a stranger," he whispered. "I can help fend off all those admirers of yours. Just for you, I'll start a hotline—1-800-HELLNO."
Lacey chuckled. Walking away proved more difficult than she imagined. He made her laugh. That was rare in her world. That and she felt him staring at her. Warmth rushed through her.
Who was he and why did he make her think things she shouldn't?