Book Titles - Part 1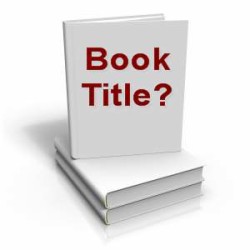 As a writer, I have to create a four to five word title to summarize sometimes a four hundred plus word book. Talk about pressure! How do you reduce everything in that vast volume to a few words that describe the entire work? It's not easy.
My late writing mentor, Wendy Haley, gave up giving her romantic suspense novels a title; she knew the publisher would reject hers. So she'd send in the manuscript as Romantic Suspense #3 and so on. Of course, they'd ask her about it and she'd shrug and say, you're going to change it anyway. Which they did, no matter if she came up with one or not.
In my case, I've been able to select the title that goes to print. Was it always my first title? Definitely not. My three book The Heart Romance Series began with other titles the editor didn't like and asked me for suggestions. Thankfully, I came up with some which satisfied the editors enough to use them.
Here's what they were and what they turned out to be:
 Meant For Each Other became Secrets Of The Heart
What Might Have Been became Crimes Of The Heart
Bad Boy's Back In Town became Lies Of The Heart
The new titles tied each book to the series and it made them stand out, so the changes were the right move. (Phew!)
I've found it takes a certain knack to select the right fit to titles (it goes something like trying on those body shapers over sweaty skin – pull, stretch, yank, repeat!). It's sometimes funny and sometimes frustrating (especially when it comes down to the wire). Even after all these years of writing, I'm still working on getting the right feel and sound to each one. You'll have to let me know if I'm hitting the mark. Oh, and don't be surprised if I ask for a suggestion or two in the near future. I can always use the help.
Stay tuned for my funny tales on how I selected the titles to my Once Upon A Romance Series…