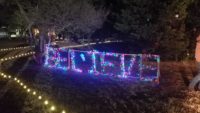 I stopped making resolutions years ago. (Who ever sticks to them, anyway? Unless if it's, eat all the chocolate you want, that is. Now, that one I could keep!) Goals work better for me. However, I tend to do those every month, quarter, and year to readjust as I go in order to stay on top of what's working and what isn't—okay, skipping the flat-on-my-face failures make me feel better. Why wait until I hit rock bottom, right?
My last resort came down to finding a word or phrase to focus on for the entire new year. Bingo! Once I did that, I discovered a compass and set it to the "north star" and away I went. I had direction. I had a chance at achieving it. I had a winner. Well…
To be honest, there's been years I wished I hadn't picked that particular catch phrase—since I saw both sides of the coin. Who knew I had to experience sorrow to get to my joy? Yeah, that was not a pleasant year. And health? Oh, don't get me started on that one!
So, hopefully, my 2018 word/focus/mantra will work through the little nasty glitches and get me somewhere. The one singular word Believe is my theme. Believe is a universal way to look at my little slice of the world. Believe in myself. Believe in the goodness of others. Believe I can overcome whatever life throws my way. Believe better things are there, waiting for me and for all of us. I can only believe…
Here's hoping you find something to believe in in 2018, too.
Hope, love, and peace,
Laurie